Sausage & Collard Green Soup Recipe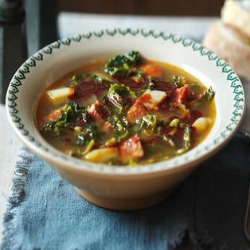 Benefits: Contains numerous types of nutrients that are easy to absorb so they are perfect for colds, flus, GI upset, poor joint health, anemia, and advancing age. It is said that a good bone broth soup will bring the dead back to life. Some of the many nutrients include: calcium, phosphorus, silicon, sulphur, iron, chondroitin, sulphates, glucosamine, and vitamins A, B, E and K.
Ingredients: The broth
2 organic beef bones: for the most flavor, pick bones with a little meat on them. The marrow of the bone reflects the health of the animal and this is a part of your soup, so make sure these come from a good farm.

2 thick cuts of bacon chopped into ½ inch pieces

3 carrots cut into large chunks

3 stalks of celery cut into large chunks

1 large onion cut into large chunks

Olive oil, salt and pepper to taste

4 quarts cold of water

2 tablespoon vinegar (draws out the minerals from the bones)
Directions: The broth
In a roasting pan, roast the meat and veggies tossed with the olive oil, salt and pepper.

Roast till the bacon is browned.

Add all the roasted ingredients to a large soup pot with the water. Bring all ingredients to a boil and then simmer for 6-8 hours.

Cool enough to strain.
Ingredients: The soup
1 lb of Portuguese sausage or dry chorizo, into sliced into quarters lengthwise and then cut into thin slices.

Beef broth from above recipe.

3-4 golden yukon gold potatoes

1 large bunch of collard greens. Stems removed and the leaf sliced thinly.

3 tablespoons of smoked paprika: can usually be found in a good bulk spice section
Directions: The soup
Brown the meat till crisp on the edges

 

Add beef broth and bring to a simmer

Add potatoes and cook about half cooked then add the paprika and the collard green leaves. Cook until the collard greens are dark green and soft.

Salt and pepper to taste.

Serve with warm fresh buttered bread or toast.
If you're looking for Naturopathic, Holistic, and Alternative Health Care options come see us in the beautiful Fairhaven district in Bellingham, WA.