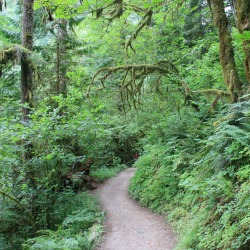 Have you ever wondered what a particular plant was when out for a hike or trail running? Well, now is the time to find out! The Koma Kulshan Chapter of the Washington Native Plant Society is sponsoring introductory plant identification walks. The Kulshan Chapter says that people of all ages and experience levels are welcome and that you should dress for the weather and wear comfortable walking shoes that may get wet. Each walk stands alone, but if you attend them all you can get a free mini-course on plant identification. Please click on the title of each plant walk to see event details.
Learning plants is fun when you can eat them too! The picturesque forests along the beaches of Chuckanut Bay are rich with wild edibles. Trip leaders Abe Lloyd and Katrina Poppe will share identification tips, traditional Native American plant uses, and their favorite recipes for enjoying nature's bounty. Rubber boots are recommended.
This week is Native Plant Week and the walk is sponsored by the Whatcom Land Trust and the Washington Native Plant Society. The forest floor at Point Whitehorn is carpeted with small wild-flowers in the spring. Join us for a walk and learn about the flowers, shrubs and trees of this forest on the edge of the sea. The walk will take us to the beach. At this time you may choose to linger on the beach or return to the cars.
Join WNPS at the Backyard Habitat Fair. We will walk from the fair area down the City Greenways trails around Padden Creek to see a variety of fun native plants. Make sure to stop at the fair before the walk to purchase some native plants.
Explore the plants of the Sehome Hill Arboretum, a "secret" natural area in the heart of Bellingham with guidebook author and Arboretum board member Mark Turner. Sehome Hill was logged in the early 20th century and is now developing a mature second-growth forest. We'll look at trees, shrubs, wildflowers, and a vine or two. Learn what's native and what's not.
Enjoy an evening walk investigating native plants in the urban environment. We will follow the Native Plant Teaching Trail in Maritime Heritage Park along Whatcom Creek and learn about the plants, their names, and uses in native Salish tradition. The walk will be led by anthropologist Allan Richardson, co-author of Nooksack Place Names.
For more information: Contact Vikki Jackson at 319-6988 or via email at vikki.jackson8@gmail.com. Below you will find a description about the identification walk from the Koma Kulshan Chapter.