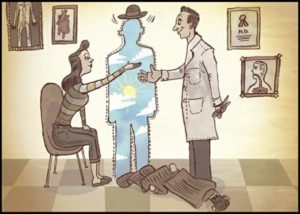 Direct primary care (DPC) is a membership agreement between the patient/member and a clinics practitioner(s). The membership covers many in-office procedures and unlimited office visits in exchange for a small monthly fee. It is a way of receiving more personalized and preventative health care services at a cheaper price than going through a traditional insurance plan.
Who Will Benefit from Most from DPC Membership?
High-deductible Insurance Plans
With ever increasing insurance premiums people are choosing high-deductible plans more frequently. While this makes having health insurance more affordable it prevents policy holders from seeing their physician since they know that they will have to pay for their office visits and procedures out-of-pocket. This makes having a high-deductible insurance plan more of an "emergency plan", which is how insurance was supposed to work, however, it doesn't solve the problem of keeping people healthy.
Regular office visits to address the small health complaints before they turn into emergent conditions is vitally important. Additionally, insurance doesn't reliably cover visits that are focused on prevention; such as alcohol/tobacco cessation, weight loss, and dietary counseling.
Uninsured
While the Affordable Care Act mandates that everyone should purchase a health insurance plan, it doesn't always make if affordable, even with a high-deductible plan. For some, paying the annual penalty for not having health insurance is the only option they can afford financially. While a DPC plan is not an alternative to health insurance and does not constitute health insurance as far as the ACA is concerned, it may be an affordable way to get the non-emergent care you need.
Medicare
We have lots of patient's with Medicare and they have to pay out-of-pocket for all of their services through our clinic. This is because we are unable to contract with Medicare due to Medicare being a federal program and Naturopathic doctors not being federally licensed. Even submitting claims to supplemental insurance plans don't seem to work. For this reason, DPC membership may be the best option if Naturopathic services are needed on a regular basis.
Plans that Do Not Cover Naturopathic Services
While this does not occur often, there are still some employers who choose to not allow ND services in their plans. Technically this is illegal due to the non-discrimination clause included within the ACA. Unfortunately, it's a hassle to get this corrected and most don't bother and either pay out-of-pocket or see a non-ND practitioner. With a DPC membership, you don't have to worry about this any longer.
What Services are Offered with Membership?
The services listed below may not be a complete list. Please inquire about the program or see current membership agreement for all current services.
Unlimited office visits including urgent care, evaluation and management, diet and life-style counseling, sports physicals, smoking & alcohol cessation
Annual wellness screenings including PAP's for females (additional costs for pathologist sample analysis)
Correspondence with your physician via patient portal, urgent after-hours phone calls, and phone calls to the clinic if practitioner is in.
Virtual visits via a secure internet link through your patient portal from the comfort of your home are available at the physician's discretion during regular business hours in lieu of a clinic visit.
Access to same day or next day appointments will be with a covering physician if your physician is unavailable due to personal leave.
20% discount on stocked dispensary items
Wound care, including stitching lacerations
Pulmonary assessments using spirometry
Biofeedback using Heart Math technology
Free in-office labs: strep tests, urinalysis, pregnancy tests, diabetes testing and influenza screen
2 Free skin biopsies (additional costs for outside pathology lab) per year and free skin tag removal
Cryotherapy as indicated for skin lesions such as precancerous growths or warts
Ear wax removal
Joint and trigger point injections as indicated by your physician (cost of injected ingredients, not included)
What Does Membership Cost?
Age Range
Price per month**
Price per quarter**
Price per year**
Annual Discount 5%
0 – 24 months*
$29
$87
$348
$330
2 – 17 years*
$19
$57
$228
$217
18 – 27 years
$49
$147
$588
$559
28 – 50 years
$59
$177
$708
$672
50+ years
$79
$237
$948
$900

One-time initiation fee:  $75

* must accompany at least 1 full paying adult membership

**membership fees are subject to change and member will be notified if and when they change
Additional Benefits
Email, phone, and Telemedicine Management
One of the difficulties with health insurance is that to get paid we have to see you in-office, yet many health complaints are easily managed over the phone, email, or using telemedicine. Since we are not billing your insurance for office visits we are free to manage health concerns by other means that work better with your life-style and time constraints.
Cosmetic Care
There are minor office procedures that can take care of things like removing warts, skin tags, and cherry hemangiomas. Unfortunately, these procedure fall under the category of "cosmetic procedures" and are not covered by insurance. These procedures are covered under the DPC membership.
Preventative Care
Ever wanted to include a detox, weight loss, or exercise program into your health care? It's a good idea and should be a part of any health insurance plan, but unfortunately it is not and most people will expect to pay large amounts of money for a service like this outside of their primary care. These programs are included in our DPC membership benefits.
If you're looking for Naturopathic, Holistic, and Alternative Health Care options come see us in the beautiful Fairhaven district in Bellingham, WA.