Beet Salad with Toasted Pepitas
The practitioners at our clinic oft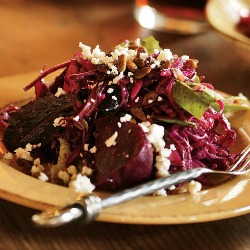 en recommend strategies to our patients for supporting their liver health. Supporting the liver is an old Naturopathic standby and in today's world of increasing toxic exposure the liver has never needed our support more. Beets have been thought to support the liver and nourish the blood for centuries by holistic physicians and only recently has science supported this belief and observation through research. Pepitas or pumpkin seeds have their own health benefits too! The oils found in pumpkin seeds have been found to paralyze parasites that live in the intestines, allowing the body to eliminate these unwanted pests. Additionally, pumpkin seeds are great for the male prostate. With all these health benefits you must be thinking, "this must taste awful", but this dish is so delicious and easy to prepare you'll want it every week!
Ingredients

1 bunch beets w/greens (stems discarded/composted)

Dressing
3 tablespoons extra-virgin olive oil

1 teaspoon salt

1 tablespoon balsamic vinegar

3/4 teaspoon Dijon mustard

1/4  teaspoon freshly ground pepper

1 to 2 cloves garlic, minced (optional)
Garnish
1/4  cup toasted pumpkin seeds (saute on low heat with 1tsp olive oil, 1/2tsp chili powder, and 1/2tsp salt until golden brown)

1/2 cup of crumbled feta cheese (optional)
Preparation
Preheat oven to 350° F.
Cut greens from the beets and set aside. Wash beets and place them in an ovenproof dish. Add 1 inch of water to the bottom of the dish and cover. Roast until the beets are slightly soft to the touch, 30 to 40 minutes. Remove from the oven and let cool. With the back side of knife, scrape outer peel from cooked beets and discard. Cut beets into bite-size chunks.
Wash beet greens by submerging in a sink full of cold water. Shake off water and chop the greens into bite-size pieces.
Mix dressing ingredients in a small bowl and set aside.
Combine roasted beets and beet greens in a bowl. Coat lightly with dressing, add toasted pumpkin seeds and serve.
If you're looking for Naturopathic, Holistic, and Alternative Health Care options come see us in the beautiful Fairhaven district in Bellingham, WA.